The market is crowded with Xiaomi Smartphone with multiple models and variants which also overlap each other in the area of prices. All variants and models have impressive specifications and that is where competition is hard to decide which one to buy. 8 months ago, Redmi 4A was launched and since then it has been a compelling phone. Now, the company is ready to replace its entry-level Redmi 4A with Redmi 5A. Even though there is a very little difference between the two models but there is a very big deal about this launch.
We have noticed several phones are named patriotically like Micromax's Bharat line and Karbonn A40 Indian. But Redmi 5A is positioning as "Desh ka Smartphone". The reason behind this title is still unclear. But maybe, it is due to its lowest price, the promise of exceptional battery or life or the fact that it is made in India. But one of the most interesting things about this model is that Xiaomi's limited time Rs. 1000 discount on the lower-end model. Thus, the price is much more tempting as it is brought down to Rs.4,999.
Let us see the full review of Xiaomi Redmi 5A:
Xiaomi Redmi 5A design
If you have used any entry-level smartphone over past two years then there isn't much to say about this one. It is all plastic but metallic finish is present to the rear. For the very first sale, buyers are only going to get two options: Dark Grey and Gold. But afterward, Rose Gold will also be available on the list. A gold unit will have a white front face.
The size of the screen is 5-inch and one may find plastic above as well as below it. It is 8.35 mm thick but still, the grip is pretty much good. If we talk about the weight then it is 137 gram which is pretty much manageable.  If we talk about the comparison between Redmi 4A and Redmi 5A, then they vary by less than 1mm in terms of both height and width.
Below the screen, one may find capacitive navigation buttons which are not backlit. In a familiar Xiaomi touch, below the Home button, there is a status indicator. It is completely invisible while charging the phone.
On the right, power and volume buttons are available. Moreover, on the left, two trays are available, one for single Nano-SIM and other for a microSD card or another SIM. Single-LED flash is present next to the camera at the back. The speaker grille runs along the entire lower back of the phone. On the bottom, Micro-USB port is present while on the top 3.5 mm audio socket is present. One very interesting fact is the presence of IR emitter on the top with the help of which you can control household appliances.
Along with the smartphone, you will also get a charger and a Micro-USB cable in the box but no headset.
Xiaomi Redmi 5A specifications and software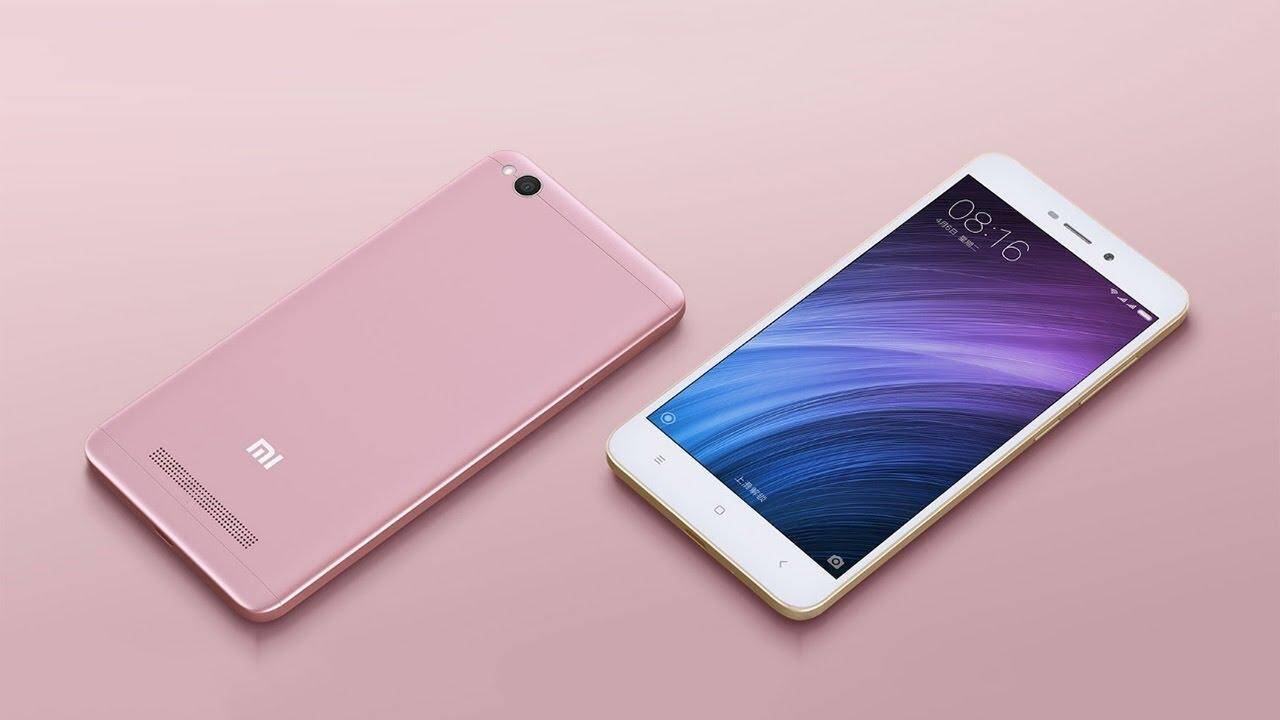 The specifications of Redmi 5A are pretty much similar to Redmi 4A. It has the same Qualcomm Snapdragon 425 processor along with four cores clocked at 1.4 GHz. The measurement of the screen is 5 inches diagonally with the resolution of 720*1280. It has the 13-megapixel rear camera and 5-megapixel front camera. Furthermore, it supports Wi-Fi 802.11b/g/n, Bluetooth 4.1, FM Radio, and GPS.  You can choose between the two base variant – 2GB RAM and 16GB storage or 3GB RAM and 32GB storage which is a bit expensive.
The differences between Redmi 5A and Redmi 4A are extremely subtle. Former has a slightly smaller battery, at 3000mAh down from 3120mAh. Moreover, it has a dedicated microSD card slot but Redmi 4A had the only hybrid dual-SIM arrangement. Rather than Micro-SIMs, it uses Nano-SIMs. MicroSD capacity is extended from 128 GB to 256 GB.
In comparison to its predecessors, Redmi 5A has no extras except IR emitter. At this price level, the company has chosen to stick with pushing out a workhouse all-rounder, rather than spotlighting one particular feature such as 18:9 screen, huge battery, fingerprint reader, a front flash or secondary rear camera.
If we consider the software part then things are a bit fresher. It is available with Android 7.1.2, and version 9 of its custom MIUI skin running on top. Single-layered UI with no way to enable app drawer is present. Few themes are also available from which one can choose. Otherwise, one can download hundreds of themes from Theme app. One can download wallpapers, fonts, and ringtones as they are free for now.
Xiaomi Redmi 5A performance, cameras, and battery life
Xiaomi has offered a perfect balance between cost and performance. This model can very well handle Web browsing, social apps, and messaging which are everyday tasks. Even, one can play a few heavy games though the performance may not be perfectly smooth. The phone may stutter slightly when you are switching apps especially while playing the heavy games.
If we talk about the screen then it is pretty much sharp. Brightness is also good when things come for the outdoor use and also viewing angles are also great. Videos and games are a bit dull as the colors do not really pop. Even though, the speaker grille runs along the entire back of the phone but sound actually comes out of only one spot. The sound is weak and at high volumes, it distorts.
There are shortcuts present for Mi Remote app or Mi Home. This app is helpful in figuring out how to control your TVs and other appliances require some trial and error. Indian TV, set-top box, and AC brands can be easily handled using it.
Cameras are quite mediocre. Video recording goes up to 1080p but they are not very smooth and also look a bit artificial. The front camera also makes faces look artificial due to the pretty aggressive beautification by default. There are two modes available- Pro beauty mode and a Smart beauty mode. For "Slim" and "Skin" sliders use Pro Mode. Smart mode tries to guess your age and gender. When you disable both of them then you will get to know that the front camera is pretty weak. Even though if you have 20 percent battery left over, you can still use it for the whole day casually. What is quite impressive is that HD video loop test went on for 11 hours, 9 minutes.