When it comes to your skin, then compromise isn't the thing you are looking for. Your food habits have a direct impact on your looks. Thus, it is important to know what food for glowing skin is recommendable. Often, we ignore the role of our eating habits in keeping skin tight and glowing. Nutrition plays an important role in healthy skin. An improper diet can damage your metabolism and make you gain some weight. Moreover, it can also lead to improper functioning of certain organs such as the liver and heart. But don't forget, it affects your skin too. Healthy food nourishes your skin. To have glowing skin, one should focus on eating healthy, exercising daily, and de-stressing techniques. Remember, green vegetables and fruits act as an antioxidant
Various cosmetic options are available out there in the market but the key to hydrated skin starts from within. These cosmetics options act like a bandage that works for some time but it is not a long-term solution. From treating acne to reducing wrinkles, healthy food habit offers you all the solution. Healthy skin starts building from within by building healthy tissues.
List of 10 food for glowing skin
1. Avocados
Avocados provide healthy fat that benefits the health of your skin. Monounsaturated fatty acids keep your skin to flexible and moisturized. Moreover, avocados protect your skin against sun damage which causes wrinkles and aging. Being a good source of vitamin E, avocados guard your skin against oxidative damage. Instead of using, anti-aging products, avocado is the best option to have hydrated and soft skin. Possessing anti-inflammatory properties also reduce oxidative stress.
2. Tomatoes
Lycopene is a phytochemical which helps in the redding tomatoes which enhances collagen strength. Lycopene- an antioxidant with amazing anti-aging properties. Moreover, tomatoes are a great source of vitamin C. It protects your skin against damage from the sun and wrinkling. Thus, tomatoes are excellent sources for maintaining healthy and youthful skin. It eliminates skin-free radicals and reduces the oxidizing effect of UV rays. Also, tomatoes are acidic in nature. Therefore, its pulp helps in tightening of the pores and prevents pimple. You can say tomatoes work as a natural sunscreen.
3. Fatty Fish
Fatty fish such as salmon are good for healthy skin. Being rich in omega-3 fatty acids, it helps in maintaining good and healthy skin. Deficiency of omega-3 fatty acids can make your skin dry. To keep your skin thick and moisturized, omega-3 fatty acids are necessary. Furthermore, it is very helpful in reducing inflammation which causes acne and redness. It is a good source of Vitamin E and acts as an antioxidant for your skin which further reduces damage from free radicals and inflammation. Also, fish is a good source of high-quality protein and provides zinc which helps in the production of new skin cells.
4. Walnuts
Walnuts are a good source of essential fats, zinc, vitamin E, selenium, and protein. Having these characteristics makes them an excellent option for healthy skin. The fat which walnuts provide; the body cannot make it by itself. Also, they are rich in Omega-3 and Omega-6 fatty acids. Moreover, Omega-3 fatty acids help in the prevention of cancer. Zinc helps in wound healing and also fights bacteria and inflammation. Vitamin E acts as an antioxidant.
5. Dark Chocolate
Here is one more reason to eat chocolate as it is also a food for glowing skin. Interestingly, the effects of cocoa on the skin is pretty impressive. Dark chocolates help in maintaining thick as well as hydrated skin. Moreover, the skin turns less sensitive to sunburn and also it becomes less rough. Better blood flow brings more nutrients to your skin. Dark chocolate is beneficial to improve texture and reducing wrinkles.
6. Green Tea
Green Tea is rich in antioxidants and thus helpful in fighting against free radicals. Moreover, it has anti-aging properties to prevent wrinkles and skin diseases. Furthermore, it soothes irritated skin. Green tea is useful for protecting your skin against the sun's damage. To improve the texture and elasticity of the skin, green tea is just the right option.
Read about Coconut in Daily life.
7. Sweet Potatoes
Sweet Potatoes are a great source of Vitamin A which reduces the oil production by the skin. Also, it is helpful in treating acne. Moreover, Potatoes act as a natural bleaching agent thus is useful as skin lightening. For around 30 minutes, apply a mask of grated potatoes on your face. If you don't know then potatoes help in the removal of dead skin cells, sunburns, dark spots, and dark circles. You can either directly use the slice of potato or squeeze its juice and apply it on the skin.
8. Oranges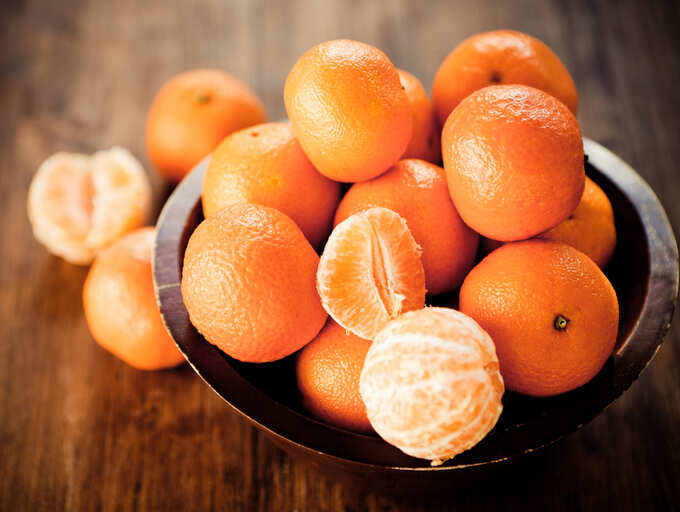 The peel of the orange is rich in Vitamin C and also, antimicrobial as well as anti-bacterial properties. So, one can use it in a face pack to have clear, bright, and glowing skin. Moreover, it rejuvenates your skin and makes you feel fresh. Using it makes your skin remain radiant and hydrating. Vitamin C produces collagen which slows down premature aging.
9. Pumpkin
Amazed to know Pumpkin is also a food for glowing skin. Pumpkin contains numerous vitamins-A, C and E and also works as an antioxidant. Thus, it helps in sun damage and getting rid of wrinkles. It naturally exfoliates dead skin cells due to fruit enzymes present in it. Containing zinc and potassium, it combats redness, creates new skin cells, regulates oil production, improves skin tone, and tightening of pores.
Read about Best Home Remedies for Sunburn.
10. Strawberries
The antioxidants in strawberries protect the skin from oxidative stress and also get rid of aging and wrinkles. It also contains alpha-hydroxyl acid which helps in getting rid of dead skin cells. Strawberries boost up collagen production. Vitamin C fights free radicals that cause skin damage and Omega-3 fatty acid is good for lightening the skin tone.