If you are traveling to this grand city, Jaipur then doesn't forget to taste Jaipur's Chaats. Are you confused about which place to choose for having Jaipur Street Food? If you are planning for a delicious and inexpensive meal then we have a compiled list of Jaipur Street Food for you:
1. Scrumptious Rolls – Al Bake
As the name itself make your mouth-watering then think how will it taste. Al Bake which is also known as Chicken Paradise is like a heaven for every chicken lover. They have a huge variety of chicken on their menu including shwarma and tikka. Al Bake is located on MI Road. Moreover, it is very famous for its Kathi Rolls. A huge crowd especially youngsters visit this place just to have Kathi Rolls. It remains open till midnight. That means even if at night you are starving and want a quick satisfying bite then this place is the most suitable one. Don't worry if you are a vegetarian, paneer tikka is a good option for you.
2. Eggilicious- Sanjay Omelette
You must be thinking that what must be so special about an omelette that it has a mentioning in this list. Well, it is not omelette what is special but it is the place which makes it special. This place is located in the bustling area of Bapu Nagar. It serves you with 20 different varieties of omelettes where you can have a nutritious diet. Amazingly, this place is run by Sanjay Sharma who was the participant of the show "Masterchef India". Interestingly, you can see the contribution of Jaipur to the fusion Street food and for that, you must try Egg Pizza and flavour-filled masala omelette which are the signatures dishes of this place. It is running for two decades and visited by not only the localities but also by the tourists. So, it is a must-visit place.
3. Lassi- Lassiwala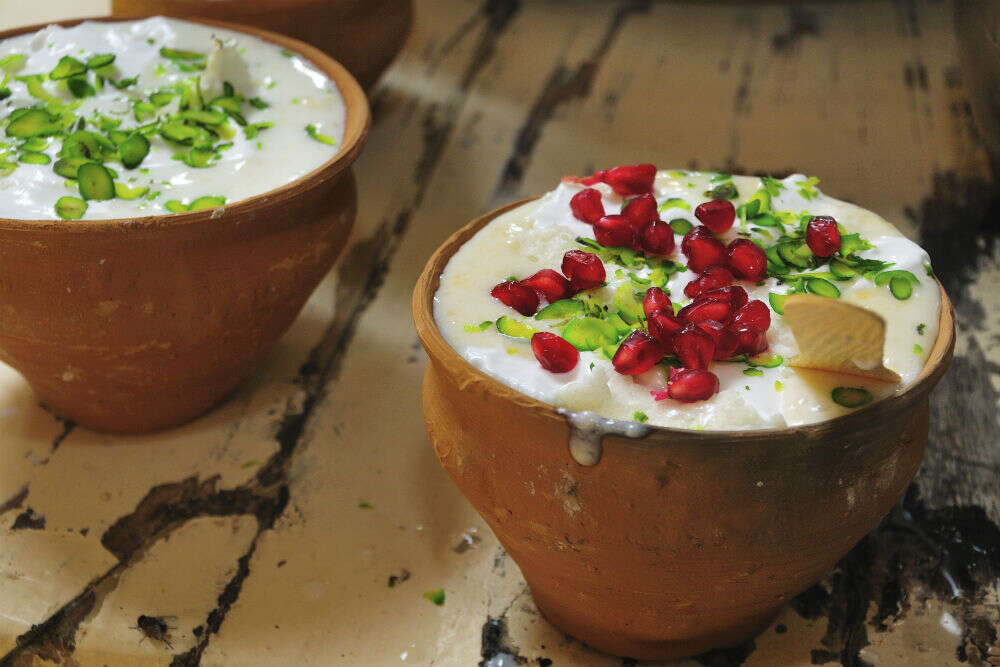 Not only Punjab but even Rajasthan knows how to serve a delicious glass of lassi. The most popular place in Rajasthan that sits on the top of the list of famous street food of Jaipur is Lassiwala on MI Road. It is the summer favorite which has remain unchanged since 1944. Lassi is served in earthen pots which adds a beautiful aroma to the taste. No worries, you can get lassi in your favorite flavor whether it is sweet or sour. Lassi is dressed with a thick layer of malai that is going to make you fresh and full. Its long existence shows the popularity of this place. If you are willing to taste it, make sure you get here as early as possible because there are possibilities to run out of lassi at any time.
4. Chai Masala-Gulab Ji Chaiwala
Tea lovers are so crazy for tea that they can go anywhere, anytime just to make sure they get the tea which matches their taste buds. If you are a tea lover then this place must be on the top of your list. Gulab Ji Chaiwala is located just opposite to Ganpati Plaza. Renowned for its masala chai and bun-Muska, this place makes it most suitable for tea-lovers. Localities come here to eat the special bun-samosa which this place offers. Visitors find this place always crowded and people take out time to relax here while talking their hearts out. This place closes down in the evening so don't miss out.
5. Soda Lime Water- Raja Park
During summers, humble soda-lime water is the only thing that everyone wants. No denies this drink is an integral part of our country. With the added flavors, it is the best relaxing drink that makes you all fresh. Just opposite to Milestone Parnami Mishthan Bhandar, Raja Park offers the best Shikanji in Jaipur.
6. Pyaaz Kachori- Rawat Mishthan Bhandar
You can't let this one go as it is something that is very special in Rajasthan. Make sure you have pyaaz ki kachori which is high on calories but higher in taste once in your lifetime. Once you taste them, you can't stop eating. Rawat Mishthan Bhandar is the most renowned place for pyaaz ki kachori. Even though, it is a restaurant but is it more famous as a mithai(sweets) shop. Not only they serve these incredibly delicious pyaaz ki kachori but also 50 different varieties of sweet. Other than pyaaz ki kachori, you can also try Mirchi vada, daal kachori, samosa, and aloo bonda.
7. Kulfi Falooda- Bapu Bazaar
An irresistible and winning combination- Kulfi Falooda is available in Shop no.28 on Link Road at Bapu Bazaar. This shop is situated on the busy street which is full of hustle and bustle of the crowd. No matter, where you are, you can always have a scoop full of Kulfi with noodles like faluda. When you are on Jaipur, Kulfi Falooda is the best thing to beat the heat. This dish is going to remind you of your childhood when it will be dripping all over you.
8. Srikhand – Falahaar
If you come across or purposely visit Saraogi Mansion which is one of the oldest shopping malls in Jaipur then a big surprise awaits for you. A small food joint, Falahaar is located here a regional special, Srikhand which is a very popular cuisine of Rajasthan. Moreover, this place is very popular among vegetarians and the crowd gathers here to enjoy a variety of dishes present on the menu such as Sabudane ki Khichdi and Sabudana Dahi Vada. These dishes are really appetizing. This place is also known for mango Kalkand, fruit cream, and Makhan lassi.
Read about Famous Food of Different States.
9. Rabri Ghevar – Lakshmi Mishthan Bhandar
Laxmi Mishthan Bhandar is located in Johri Bazaar. It is a very famous spot among locals for Rajasthani special dishes. But something special which it offers to its visitors is Rabri Ghevar. It is a dessert that one should try must.
10. Tikkas – Sethi Bar-Be-Que
You are assuming and believing it wrong in case if you think Rajasthan is high on vegetarian food. If you are a chicken lover and cannot resist eating chicken then you must know Jaipur is also famous for Laal Maas and Chicken Tikkas. You won't find any other place better than Sethi Bar-Be-Que which is situated at Raja Park if you want to satisfy your chicken craving. For the non-vegetarian crowd of the city, this place is totally a craze especially for its atmosphere like Dhaba. You will get to see a huge line of cars here as people prefer eating from this place but while sitting in a car. It serves tandoori roti, nasal a and onion rings, things to die for. But the specialty of this place are lemon chicken tikkas, lahsooni chicken tikkas, and Haryali chicken tikkas.
Now, after knowing the famous Jaipur Street Food, you can start off on your food trail. You will be happy to see the hospitality that the place provides and your taste buds will be happy too.