The year 2020 has been nothing but the harbinger of heart-wrenching news. Every night we wish to wake up next morning to some warm and fulfilling news, but 2020 has planned polar opposite things for us. 14th June 2020 was one of the black days when we woke up to a news we weren't prepared for. The sudden death of the talented and versatile actor Sushant Singh Rajput took us by surprise. It felt more like a personal loss even though the common audience did not know him personally. Social media pages were flooded with heart felt messages from the true fans and supporters and we just couldn't stop thinking about this man, and we still can't. But what was even more unbelievable was what we witnessed through WhatsApp pictures going viral; not to mention it was an inhuman, shameful and bestial attempt to post the pictures of a person in that particular condition who just left the world. Humanity is drastically losing the values it was once known for, most people are now just hungry for creating unnecessary brouhaha over even the sensitive issues. News channels, social media platforms are consistently speculating whether it was a murder or a suicide, and of course media is responsible for bringing out the truth to the public. But the way Indian media is reporting the case reflects how far the general standards of media have gone ludicrous, and that they are just bent on sensationalizing the issue.
On the day when the news was out, there were multiple news channels live reporting from Sushant Singh Rajput's home in Patna. They were recording the reactions of his family members, and shoving mic at their faces, asking them to express their heartfelt state. Really? Is this how the media should present the news? Is there no space for personal mourning for the family who suffered the big loss? Are the news channels all about "who's gonna be the first one to be present anywhere and everywhere to report?" It is shameful and disgusting to see such behaviour of news reporters and channels who now care more about their TRP than the personal boundaries and personal sentiments associated with the incidents they report. We understand the fact that the number of multimedia channels have grown tremendously, and there is a constant rat race to achieve the first place. But the audience looks forward to some good and informative content, rather than inhuman and vicious attitude of the journalists.
READ ABOUT CURRENT SCENARIO OF INDIAN MEDIA
Now let me take you through the gradation of speculations done by the media itself without actually taking some time out to look out for proofs though there are no solid proofs as of now. First of all, within few the first few hours of discovery of Sushant Singh Rajput's death, the news channels were confident enough to declare that he was suffering from depression which pushed him to commit suicide. There was no confirmation in the first week whether he was seeing any therapist or taking medicines for the same. But it was all over the internet that he was suffering from depression. However, later on it was Rhea Chakrabortty and her lawyer who presented some facts that he was indeed a bipolar. Now this news still remains vague because Sushant's family has no information regarding his mental health, except one of his sisters. But, of course it is not our job to predict what is the actual scenario.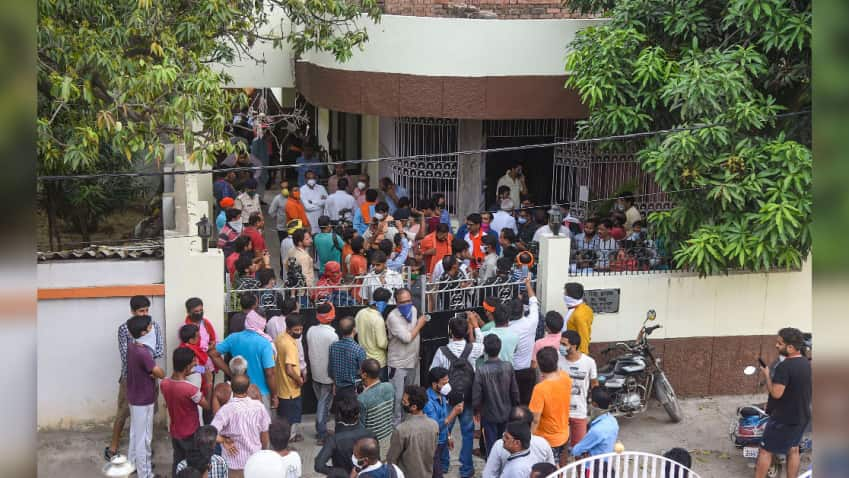 Instagram pages became super active about mental health issues, asking people to reach out to each other. But it was for a very short period of time. Not that talking about it is wrong, but mental health is something that should be talked about regularly just like some other physical ailment. If it takes someone's life to freely talk about mental health issues, it means mental health hasn't yet occupied an important position within the sphere of conversation. This sudden awareness came in the form of a wave which never returned, rather it swerved and took form of something which wasn't expected at all. Speculations reached another level, and mind you, speculations were being done by the public and media at a rate that we thought media is the new 'CBI'. Suicide became murder, and one by one media pages started alleging many people associated with Sushant Singh Rajput. I agree that we all want the truth to come out as soon as possible, and that's the reason CBI has been deployed to investigate the matter at the order of the Supreme Court. Also, India is a democratic country and there is room for expressing your opinion, but taking law in our hands is not something which the legal system allows for.
There is a procedure behind every investigation. Our legal system follows the principle of "innocent until proven guilty", but apparently this principle has been turned upside down into "guilty until proven innocent" by the media. Rhea Chakrabortty, whether or not she is guilty is not the task of the media to prove. Media is to present the facts, verified and substantiated. Whether you agree or not, Rhea Chakrabortty remains innocent until CBI finds some strong evidence against her vis-à-vis Sushant Singh Rajput's death. Nepotism, money laundering or any other factor will be out on the big tv screens and you'll know it if that's the case. But to victimise someone especially if it's a woman and then build "misogynistic narrative" around her is something that's puts narrow mindset of media into our perspective. According to Meenakshi Arora and Payal Chawla : "As women lawyers, we are also deeply disturbed by the misogynistic narrative surrounding the young woman in question. What the investigation holds tomorrow no one can say, but to condemn a person without conviction, seeking vigilante justice is reminiscent of "dunking" — you're damned if you do and damned if you don't."(TOI). Rhea will face repercussions if she is involved, but to not let her voice her opinion and oppress her under the sexist framework and myopic mindset of media is shameful and unacceptable.
Guilty must be punished and justice must be served. But media should also become proactive in reporting the matters which are absolutely important for nation-building, rather than indulging in victimizing someone not yet proven guilty. In the trying times of pandemic, when the GDP is hitting a big negative number; media should rather be vigilant to track down every detail surrounding the dip in GDP as well as question the government with regards to the falling economy of the country. And a piece of advice, media should get rid of the sick mentality and the narrow mindset enveloped with the sexist and misogynistic views.